Bell transformer BONEGA® P-E-P 24T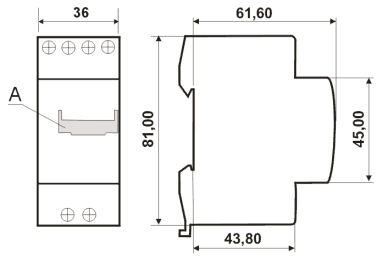 A – User's inscription directly on the transformer body

The bell transformer ET 4 is a safety, short-circuit-proof transformer in modular design (the width is 36 mm). It is intended to be installed into the distribution boxes to supply usual doorbells. With its design and technical parameters, the bell transformer ET 4 complies with the contemporary world-wide level. It is made according to the standard CSN EN 60 742.

Installation
To be connected on the DIN strip.

Play animation

The transformer is equipped with a transparent removable cover with locking in its upper position (not to fall down spontaneously when being inscribed). A two-line text with a user's legend can be put into the limited slots (6,2 x 23 x 0,3 mm) under the cover. It is possible to write directly onto the plastic surface.

Technical parameters
Technical parameters

U prim. (input voltage)
AC 230 V / 50 Hz (+6% až -10%)
U sec. (output voltage)
8 / 12 / 24 V AC
Rated output
8 VA
No-load current
16 mA
Dissipated power (no-load)
3,4 W
Total dissipated power
(with rated loading)
7,3 W
Load factor
100%
Protection
IP 30
Short-circuit resistance
Fully resistant
Class II – double insulation
Safety protective transformer, implicitly short-circuit-resistant
---
Export Manager: Michal Hudeček, tel: +420 605 518 724, [email protected]
Sales Department: - Mrs Adriana Jamná, fax +420 518 335 216, email : [email protected], 696 66 Sudoměřice nad Moravou 302