Voltage Switch-Off Releases – Ejecting Coil (for Remote Switch-Off)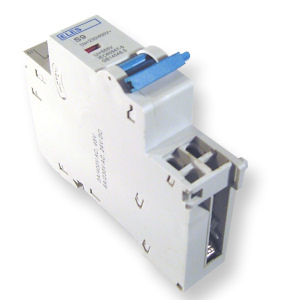 For the miniature circuit breakers BONEGA® P-E-P, there are various optional extras available, such as e.g. undervoltage coils, ejecting coils, auxiliary contacts etc. They are installed from the left or the right side of a MCB.
The above devices extend the functions of a MCB by overvoltage or undervoltage protection, control, regulation, remote control, remote signaling of switched-off or switched-on position of a MCB, programming, measurement and other. Those combinations enable the MCB´s to be used even for the control of complicated automation processes.
Those accessories can be interconnected among each other (e.g. MCB + undervoltage release + auxiliary signaling contact etc.). In this way, it is possible to form various combinations.

---
Ejecting coil, Type S-9
The width of the ejecting coil is 1/2 module = 9 mm.

It enables to switch-off a MCB from any location by supplying the voltage onto the release coil; simultaneously it enables to signal the MCB´s condition ON/OFF.

It enables to signal the MCB´s condition ON/OFF with the same voltage as the release is supplied with.

It is equipped with a disconnecting contact in series with the coil (OFF).

All the voltage releases are equipped with the indication of the switch-off condition with red chopper-bar

---
Installation
To be installed by fixing on the left or on the right side of a MCB without using any tools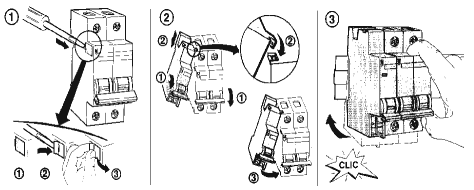 - power input of releases: :
415
V ~

starting-up:

120 W
48 V ~ / =

starting-up

22 W
220/240
V ~
50 W
24 V ~ / = 120 W
110/130
V ~
200 W
110/130 V = 10 W
Overview of voltage switch-off releases

Order Code
Description
Packing pc/case
07-26946
Remote switch-off release 220-415V st. 110-130V ss
1 pc
---
Export Manager: Michal Hudeček, tel: +420 605 518 724, [email protected]
Sales Department: - Mrs Adriana Jamná, fax +420 518 335 216, email : [email protected], 696 66 Sudoměřice nad Moravou 302